Learn more about the current trends and issues that face Professionals in Law, Health and Med
Law School Is Worth the Money
By

LAWRENCE E. MITCHELL
Published: November 28, 2012, New York Times Op-Ed
I'M a law dean, and I'm proud. And I think it's time to stop the nonsense. After two years of almost relentless attacks on law schools, a bit of perspective would be nice.
For at least two years, the popular press, bloggers and a few sensationalist law professors have turned American law schools into the new investment banks. We entice bright young students into our academic clutches. Succubus-like, when we've taken what we want from them, we return them to the mean and barren streets to fend for themselves.
The hysteria has masked some important realities and created an environment in which some of the brightest potential lawyers are, largely irrationally, forgoing the possibility of a rich, rewarding and, yes, profitable, career.
The starting point is the job market. It's bad. It's bad in many industries. "Bad," in law, means that most students will have trouble finding a first job, especially at law firms. But a little historical perspective will reveal that the law job market has been bad — very bad — before. To take the most recent low before this era, in 1998, 55 percent of law graduates started in law firms. In 2011, that number was 50 percent. A 9 percent decline from a previous low during the worst economic conditions in decades hardly seems catastrophic. And this statistic ignores the other jobs lawyers do.
What It Means To Be A "Disadvantaged" Medical School
A Cadaver, Facebook, Free Speech
The Minnesota Supreme Court on Wednesday upheld the right of the University of Minnesota to punish a mortuary science student for posts on Facebook that made fun of a cadaver.
The court's ruling said that because of the nature of the student's career-related academic program, the university did not violate the student's rights in failing her in an anatomy laboratory course.
In a technical sense, the Minnesota Supreme Court affirmed the finding of a state appeals court that also found no First Amendment violations by the university. But the appeals court's ruling was broad, suggesting that the university could punish off-campus speech that "materially and substantially disrupted the work and discipline of the university." Advocates for student speech rights said that the breadth of the appeals court's ruling created the ability for public universities to punish all kinds of off-campus student activity…
In the Minnesota case, Amanda Tatro was a junior in the mortuary science program. The program's rules specifically require students to be "respectful and discreet" in dealing with cadavers, and not to blog about their cadavers. The university said that Tatro violated these rules with four Facebook status updates in which she talked about her cadaver, whom she named "Bernie."
Read more: http://www.insidehighered.com/news/2012/06/21/minnesota-supreme-court-upholds-punishment-student-over-facebook-posts#ixzz23XEA3abA
Inside Higher Ed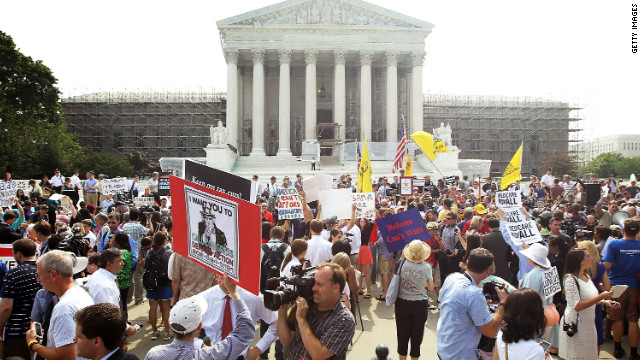 Supreme Court Upholds Obamacare 5 – 4
updated 11:29 AM EDT, Thu June 28, 2012
CNN.com
Washington (CNN) — The U.S. Supreme Court on Thursday upheld the controversial health care law championed by President Barack Obama in a landmark decision that will impact the November election and the lives of every American.
In a 5-4 ruling, the high court decided the individual mandate requiring people to have health insurance is valid as a tax, even though it is impermissible under the Constitution's commerce clause.
"In this case, however, it is reasonable to construe what Congress has done as increasing taxes on those who have a certain amount of income, but choose to go without health insurance," Chief Justice John Roberts wrote in the majority opinion. "Such legislation is within Congress's power to tax."
The importance of the decision cannot be overstated: It will have an immediate and long-term impact on all Americans, both in how they get medicine and health care, and also in vast, yet-unknown areas of "commerce."
The most anticipated Supreme Court ruling in years allows the government to continue implementing the health care law, which doesn't take full effect until 2014.
Read more at: http://www.cnn.com/2012/06/28/politics/supreme-court-health-ruling/index.html?hpt=hp_t1
The Shrinking Law School
By Mitch Smith
Published: May 1, 2012
Inside HigherEd
Vet School Surge
By Mitch Smith
Published: February 8, 2012
Inside HigherEd
Learn More About the Newly Accredited USC School of Medicine – Greenville
http://greenvillemed.sc.edu/
There's More to the Law Than "Practice Ready"
By Alfred Konefsky and Barry Sullivan, The Chronicle of Higher Education
Published: October 23, 2011
Law graduates must be practice-ready, not simply in the sense of being ready for the first stage of practice, but by being equipped for a lifetime of professional growth and service under conditions of challenge and uncertainty. Those who are practice-ready only in the narrow sense may have an initial advantage, but that will soon evaporate. Even today, a small-town business lawyer in upstate New York or downstate Illinois will have clients doing business in China, France, Germany, Italy, Japan, or Mexico. She may be able to draft a contract, but her advice will be more useful if she has some basic appreciation of the differences between the civil and common law systems….Read more here! http://chronicle.com/article/Theres-More-to-the-Law-Than/129493/

Law Schools on the Defensive Over Job Placement Data
By Katherine Mangan, The Chronicle of Higher Education
Published: October
Kyle McEntee graduated from Vanderbilt University Law School in May with $150,000 in debt and a pit in his stomach. After passing the bar in North Carolina, his home state, he began applying for the few jobs he found posted but was competing with laid-off lawyers with at least a year or two of experience.
"Everyone I talked to was beaten down and depressed about their job prospects," he says.
Today Mr. McEntee's career is on something of a roll, but hardly in the way he'd expected…Read more at http://chronicle.com/article/Crisis-of-Confidence-in-Law/129425/
Why Medical School Should Be Free
By PETER B. BACH and ROBERT KOCHER, Op-Ed Contributors – NY TIMES
Published: May 28, 2011
DOCTORS are among the most richly rewarded professionals in the country. The Bureau of Labor Statistics reports that of the 15 highest-paid professions in the United States, all but two are in medicine or dentistry.
Why, then, are we proposing to make medical school free?
Huge medical school debts — doctors now graduate owing more than $155,000 on average, and 86 percent have some debt — are why so many doctors shun primary care in favor of highly paid specialties, where there are incentives to give expensive treatments and order expensive tests, an important driver of rising health care costs.
READ MORE HERE…http://www.nytimes.com/2011/05/29/opinion/29bach.html?partner=rssnyt&emc=rss