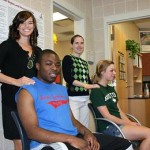 It's a beautiful time of year, with spring finally here and summer just around the corner. It is also a hectic time, as students find themselves preparing for final exams and on the hunt for jobs and internships.
Luckily, Campus Wellness and the Counseling and Human Development Center (CHDC) provide a wealth of resources and advice about how to manage stress.
According to campus dietitian Deborah Zippel, stress can wreak havoc on a person's diet. Excessive caffeine consumption can actually trigger a stress response and negatively affect sleep, which causes a decrease in retention of information. ippel advises students to battle stress by getting a jump start on projects and studying and prioritizing academics and health.