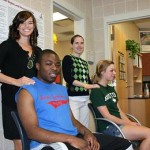 It's a beautiful time of year, with spring finally here and summer just around the corner. It is also a hectic time, as students find themselves preparing for final exams and on the hunt for jobs and internships.
Luckily, Campus Wellness and the Counseling and Human Development Center (CHDC) provide a wealth of resources and advice about how to manage stress.
According to campus dietitian Deborah Zippel, stress can wreak havoc on a person's diet. Excessive caffeine consumption can actually trigger a stress response and negatively affect sleep, which causes a decrease in retention of information. ippel advises students to battle stress by getting a jump start on projects and studying and prioritizing academics and health.
"Give up Facebook for 48 hours until your work is complete and you can relax," says Zippel. "Fuel your brain and body with a balanced diet — grains, proteins, fruits, vegetables and skim dairy. Garbage in equals garbage out."
Zippel says that getting enough sleep and making sure to go outside for some fresh air and exercise to clear your head are important ways to stay healthy and relieve stress.
Program Coordinator for Campus Wellness Lauren Hastings also has tips for dealing with stress and anxiety. Hastings says to first identify your stressors and how they affect your health, school or work performance and quality of life.
Hastings says that talking to a friend or family member is one avenue to take. There is also professional help available at the Counseling and Human Development Center (CHDC) for students, and the Employee Assistance Program for faculty and staff. Ongoing programs include an anxiety support and process group, a self-hypnosis and relaxation training group, and FOCUS, a group that helps with time management and organization skills. Additionally, the center has an extensive outreach program that can provide presentations to campus groups on topics such as stress management.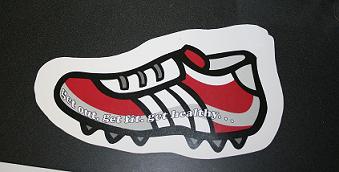 Exercise is another healthy way to de-stress.
"Exercise releases endorphins, your body's 'feel-good' chemicals, giving your mood a natural boost," says Hastings. "Incorporating physical activity into your five-minute study break or one-hour lunch break allows you to return to work rejuvenated."
Campus Recreation offers group exercise classes, which provide a fun way for people to be physically active in a social setting. There are yoga classes as well if what you need is to unwind, refocus and stretch your muscles.
Campus Wellness is hosting a "De-stress Fest," 1-3pm on Monday, April 26 on Davis Field. It will feature therapy dogs, a free 5-minute massage, bubbles, games and much more.
Zippel says students can also take advantage of free nutrition consultations at Student Health Services and grocery store tours, which teach students to shop for the most healthful foods. Campus Wellness offers free exercise consultations at the Strom Thurmond Wellness and Fitness Center, as well as massage therapy and biofeedback sessions by appointment.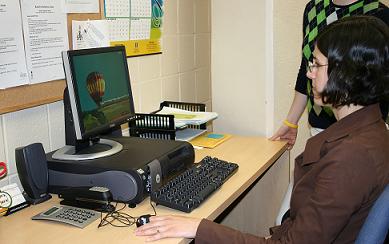 Hastings says that even simple things such as watching a funny movie, knitting, going for a walk at the park, baking cookies, doing crossword puzzles or taking a nap can all help with stress management.
"Take care of yourself!" says Hastings. "Get plenty of sleep, eat well-balanced meals and snacks, take time for physical activity and treat yourself to a massage!
For more information on stress management, visit Campus Wellness and the Counseling and Human Development Center online. To request an outreach presentation on stress management, e-mail outreach@gwm.sc.edu.
By: Becky Wiens